Will Vertical Farming feed the world ?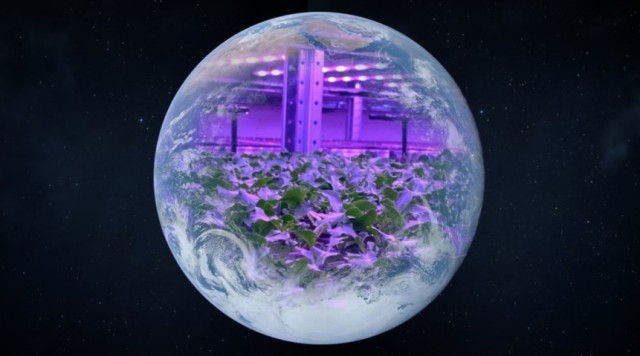 Vertical Farming (i.e. totally controlled-environment agriculture CEA) has sometimes been promoted as the future of agriculture, just as urban farming has been forecasted to feed the cities. However, people outside of this young industry are then surprised to see mostly leafy greens and aromatic herbs grown in these high-tech systems. No doubt fresh local leafy vegetables are healthy and widely enjoyed, but they only represent a small portion of our diet. From Eric Dargent* and Rachael Warner**
Can Vertical Farming go beyond leafy greens, and more towards the center of the plate? As Tiffany Tsui, from the VerticalFarm Institute, said "it is important to remember that Vertical Farming technology is relatively new, having only been around for about 12 years. As technology and research continue to advance, we can expect to see a wider variety of crops being grown in vertical farms."
At COP 27 in Sharm El Sheikh, industry leader Infarm – a leading modular farm manufacturer and manager producing mostly aromatic herbs and leafy greens – announced they had "successfully demonstrated the ability to grow wheat indoors towards [their] goal to address the food security challenge." However, there is a large step between proving a concept in a laboratory and producing a crop at scale. It is quite an ambition to go from aromatic herbs to wheat. In many ways, these crops are quite the opposite: aromatic herbs grow fast, offer high yield / cultivation area, come at a high price/kg and represent small volumes overall. Wheat is a staple crop: large volume, low price, much lower yield / cultivation area vs herbs and has a long crop cycle. For all these reasons, there is no economic viability in sight for growing wheat in vertical farms and talking about food security is probably a bit early; unless it is framed within the Mars colonization narrative, where reduced yields would be worth the expensive inputs. But between these 2 opposite crop categories, there are many other crops to be considered. We need to go back to the core of what Vertical Farming really is.
Expanding crop selection in vertical farms towards common greenhouse crops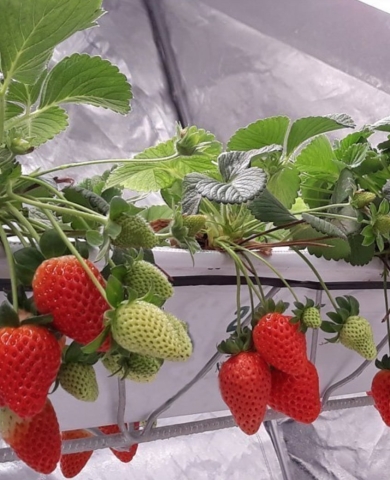 Vertical Farming is a recent development within Controlled Environment Agriculture (CEA), an established sector which until now has been dominated by greenhouses. Greenhouses give growers more control over the environment, allow for lower pest loads and protection from weather events over traditional farming. Vertical Farming increases the level of control by relying on artificial lighting. In that sense, it is not as disruptive as some may have claimed. By putting Vertical Farming back in the frame of the larger and well-established sector of CEA, we can more reasonably see which other crops will next come out of vertical farms. And we don't think wheat will be on top of the list. What is grown in greenhouses? Mostly fresh fruits and vegetables with high water content. Aside from leafy greens and herbs, popular fruiting crops include strawberries, tomatoes, cucumbers, and peppers. Currently most of these crops – apart from leafy greens – are not profitable in vertical farms. Their market value is too small compared to the capital and operating expenditures (CAPEX and OPEX). But this is already changing, as the Vertical Farming sector both matures and continuously innovates.
The upcoming mainstream crop for vertical farms are strawberries, and are already part of the range of some major players.
Several companies have been growing them over the last few years ; specifically Ferme d'Hiver and Vertité in Quebec have been focusing on this crop. Vertical Farming leaders have taken major steps forward in 2022: Bowery added strawberries to its range of produce. US berries specialist Driscolls strengthened its partnership with Plenty. California Giant Berry Farms has announced a strategic partnership with OnePointOne. There are more than strawberries though. Fruiting crops and other soft fruits are next. 80 Acres already markets cherry tomatoes and baby cucumbers. During the Zenith Vertical Farming World Congress in 2021, several industry leaders agreed with Shannon O'Malley – CEO Brick Street Farms – who said around 15% of their production capabilities would be dedicated to fruiting crops within 5 years. More recently, Antoine Fuyet - CEO of French bioponic vertical farm Champerché shared with us last month: "we are working on fruits & vegetables : cucumbers, melons, beans, aubergines, tomatoes, peppers, raspberries, etc... Profitability is already achievable on 50% of our fruits & veggies but with a very low margin compared to microgreens, herbs and edible flowers. 2023 will mark the validation of a dozen fruits & veg that we will produce massively in our next 5 farms around Paris".
CEA is set to grow in the face of the challenges of the 21st century
So, innovation & maturation in Vertical Farming will expand the range of its produce. But another trend will contribute to this expansion. As reminded by Thomas Zoellner, Secretary-General of the FarmTech Society, "climate change, severe geo-political impacts and subsequent extraordinary pressure on food production globally create harsh situations for farmers and the entire supply chains". He says the agricultural sector is "under tremendous pressure to develop a rapid transition roadmap with tangible and realistic results in the short and long term today."
CEA is one of the most compelling solutions to shelter crops from weather events and contribute to overall food security.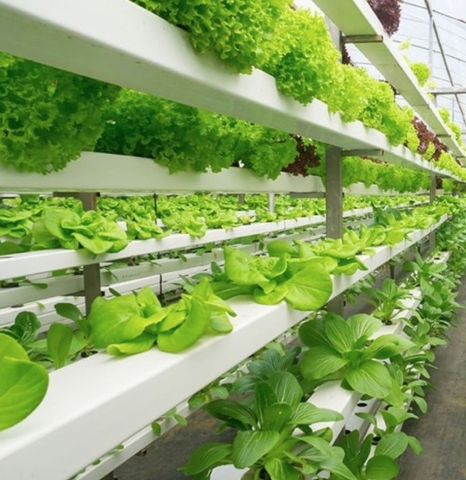 One example is Poland that has now 1400 hectares of tomato cultivation in heated greenhouses – making it Europe's second-largest market – and most of what is grown is for the internal market, according to René Zwinkels and Kasia Kaczmarek of Axia Vegetable Seeds (reported by Hortidaily). Of course, CEA is energy-intensive, and the increase in energy prices is a huge challenge in the short run. However, regions with highly renewable or affordable electricity sources provide excellent potential for establishment of indoor farms. Quebec deserves honorable mention here, with 100% hydroelectricity and the lowest electricity rate in Canada. Outside of these regions the sector will adapt, with more energy-efficient technologies, better use of off-grid renewable energy and new policies to support this vital sector. Finally, not only do these environmental and geo-political challenges call for new solutions in agriculture, but they will also push prices upwards, improving the business case of CEA. So, CEA is definitely set to grow – and it includes Vertical Farming.
Vertical Farming is a young industry with a strong potential
Over the last decade, Vertical Farming has been often treated as the next high-potential scalable business by VC funds in Silicon Valley and beyond. But, as Thomas Zoellner says, as long as "the ambition of Vertical Farming is communicated as the 'sustainable food systems' in manifestos and by individual companies, there will be an inherent overpromise and disappointing under-deliverable." A few bankruptcies and strong strategic readjustments in 2022 showed this hype bubble started to deflate. However, let's not throw the baby out with the bathwater. Vertical Farming has real advantages compared to the rest of CEA and it is still …a baby industry.
First, vertical farms do not rely on natural conditions, they maximize output vs volume, so minimize footprint. They can be installed anywhere, specifically where they can get a competitive edge. They can for instance be located within stores to eliminate transport such as SweGreen, which systems go from seed to harvest within a supermarket. Or they can be combined with renewable energy generation as Grow Up, in the UK, that built their new large-scale vertical farm beside a renewable power plant. Second, the total level of control over growth parameters is opening a wealth of opportunities, still widely untouched. Vertical Farming technology is still young and far from delivering the theoretical promise of total control. Many farms typically struggle with climate homogeneity for instance. Crop science is also in its infancy when it comes to totally controlled-environment agriculture. We can expect major improvements in terms of productivity and quality as we – or AI – learn how to optimize these complex settings.
Last but not least, a new generation of seeds is being bred specifically for Vertical Farming, unlocking its true potential.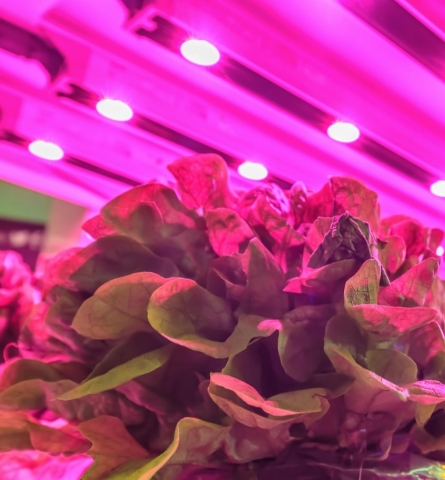 Today, we use seeds bred for outdoor or greenhouse agriculture which has to compromise yield and quality for pest or drought-resistance for instance. Cultivars are being developed to grow quickly in compact environments - both aerially and in root zones. These upcoming seeds will offer more productivity and quality, while improving their resistance to specific pests and disease. With the implementation of these innovations, we can expect Vertical Farming to be economically viable for many conventional greenhouse crops and start to plan for staple crops such as wheat or soya. Down the road, other alternative proteins such as insects, fungi or algae, may become part of our diets, for which Mark Horler, Chairman at UK Urban AgriTech believes, there is "enormous potential in CEA & Vertical Farming, in terms of providing functional ingredients." So, don't be disappointed if Vertical Farms are not feeding the entire world population in 2030, but expect them to take an increasingly bigger share of the fruits and vegetables market and to be part of futuristic food systems that are much harder to anticipate.
In summary, Vertical Farming is still a young sub-segment of Controlled-Environment Agriculture (CEA). It has a lot of potential to improve its profitability, with continued research, improved technology and innovative business models. It will most likely expand to other common CEA crops such as berries & soft fruits in the next few years. In addition, Vertical Farming will benefit from the overall growth of CEA, a compelling solution in the face of increasing environmental and geo-political challenges. Down the road, major technological and scientific breakthroughs may also make it a solution for staple crops and alternative proteins.
*Authored by Eric Dargent, Mycelium Managing Partner (www.mycelium.ag). Mycelium is a consultancy specialized in Urban & Vertical Farming working for major retail, real estate & agriculture groups as well as financial institutions, investors and start-ups.
**Co-Authored by Rachael Warner Operations Manager, Farming as a Service at Cultivatd, a Vertical Farming Broker offering Farming as a Service and Financing services.
A lire aussi sur agri-city.info :
Sous la cité, les champs : visite du site de Champerché
Fermes verticales : miracle ou mirage ?
La plus grande ferme hydroponique produit 3 tonnes de légumes par jour
Upward Farms construit la plus grande ferme aquaponique au monde