Floriade Expo 2022 : Almere, a testbed for green cities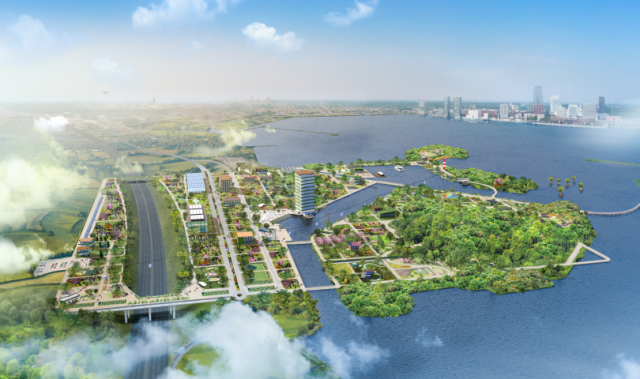 Once a decade, a city in the Netherlands provides the backdrop for the international horticulture exhibition Floriade and, in 2022, it's that time again. From 14 April 2022 onwards, and for the following six months, Almere will be the place to enjoy flowers, plants, vegetables, fruit as well as green innovations, all aligned with the 'Growing Green Cities' theme. Join us in discovering the best ways to make cities more fun, liveable and green at Floriade Expo 2022.
Greenery is good for us
Over half the world's population is urban and this percentage is expected to rise to some 68% by 2050. The construction of homes, offices and other facilities in these expanding cities is often at the expense of their green areas even though greenery is so important. People with green living environments prove to be sick less often, patients recover more rapidly from surgery if they have a view of a green environment and air quality is better if a city has a lot of greenery. The major issue is how to keep expanding cities green and healthy in the future.
Growing Green Cities
Luckily there are countless solutions to this issue. Dutch horticulture — in conjunction with national and international participants — will highlight wonderful examples of this at Floriade Expo 2022. The main theme's, sub-themes are Greening the City, Feeding the City, Energising the City and Healthying the City which will help you explore innovations in the fields of greenery, food production, health and energy. What about urban cable cars instead of roads jammed with vehicles, the Growing Pavilion built from natural materials including hemp and mushrooms or the food forest that provides vegetables, fruit, nuts and herbs from and for the city?
Green city Almere
Sociologist Ebenezer Howard came up with the concept of the 'garden city' that harmonises city and countryside, in 1898. Contemporary Almere was built on the basis of these ideas whereby parkland is first laid out before the houses are built. Flevoland is a relatively new province reclaimed from the clay of the former Zuiderzee [an inland sea, now the IJsselmeer lake] and this made it possible to try out innovative ideas there. With excellent results as nowhere in the Randstad conurbation can you find as much greenery and water as in Almere. Maintaining the equilibrium between the built environment and greenery will prove challenging in the future in this young city that is preparing itself for major growth. Floriade would love to lend a helping hand by showcasing all manner of options for making cities greener.
A for arboretum
The green structure of the Floriade park consists of the arboretum, a large collection of sustainable trees, plants and flowers planted in alphabetical order. A joy to behold and a major contributor to making cities healthier. Think, for instance, of improving air quality, discharging excess rainwater or helping to cool things down on hot days. Furthermore, at Floriade you will be able to discover an impressive greenhouse complex and pavilions featuring greenery from over 40 countries arranged around the theme of Growing Green Cities starting from 14 April 2022.
Cliquez ici pour lire la version française
Autres articles d'agri-city info sur ce sujet :
Création du Pôle sur la ville résiliente
Les villes françaises présentes à Glasgow pour la COP26
La ville du futur sera nature